Personal experiences 

enable faster

 and 

better understanding

. 
Daily life in South Tyrol is constantly influenced by its autonomy. In schools, administration, marketplaces and menus of local restaurants – anywhere you encounter linguistic and cultural diversity and self-governance, the population's confidence is evident. 
However, for the three language groups, living together has not always been as easy as it is today and for decades, political leaders and engaged citizens negotiated, disputed and compromised. 
Autonomy Experience accesses this immense treasure trove of knowledge combined with practical experience to provide insights to the political, legal and historical aspects of autonomy in South Tyrol as well as to its people's experiences of daily life. Through videos, podcasts, webinars and study visits, Autonomy Experience supports the research of South Tyrol's autonomy and provides food for thought in topics of specific and focused interest. 
Our goal is to share South Tyrol's experience and the knowledge related to its autonomy thereby creating networks with international and local stakeholders.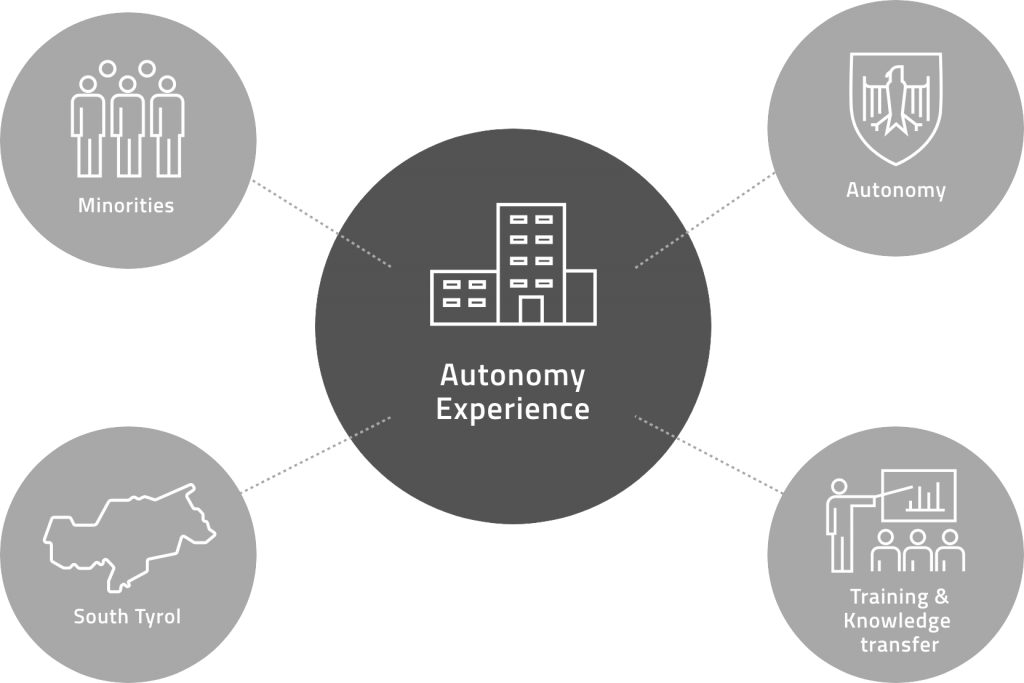 Autonomy Experience offers and supports activities related to the autonomy arrangement of South Tyrol.
We are your contact for planning official or study visits to South Tyrol.
We support trainings and organise knowledge transfer for anyone interested in understanding South Tyrol's autonomy arrangement and the correlated political circumstances.
We collaborate with partners in politics, administration and research.
Our headquarters at Eurac Research offer close cooperation with the internationally leading experts on minorities and federalism, who operate there, and give insight into the current state of research. 
Autonomy Experience is the headquarters of the European Association of Daily Newspapers in Minority and Regional Languages (Midas).