Personal experiences 

enable faster

 and 

better understanding

. 
Autonomy characterises daily life in South Tyrol. At school, at offices, in the marketplaces and on the menus of the local restaurants – linguistic and cultural diversity, self-government and the corresponding self-confidence of the people can be felt everywhere. But the coexistence of the three language groups has not always been as smooth as it is today. For decades, politicians and statesmen have negotiated, weighed and compromised with each other. Autonomy Experience draws on this wealth of experience and reports on political, legal and historical aspects of South Tyrolean autonomy as well as on the lives of the people.
Autonomy Experience is a mediation, research and contact point for activities and initiatives around South Tyrolean minority protection and the South Tyrolean autonomy model. We want to share South Tyrol's experiences, pass on knowledge and thereby build a strong international and local network.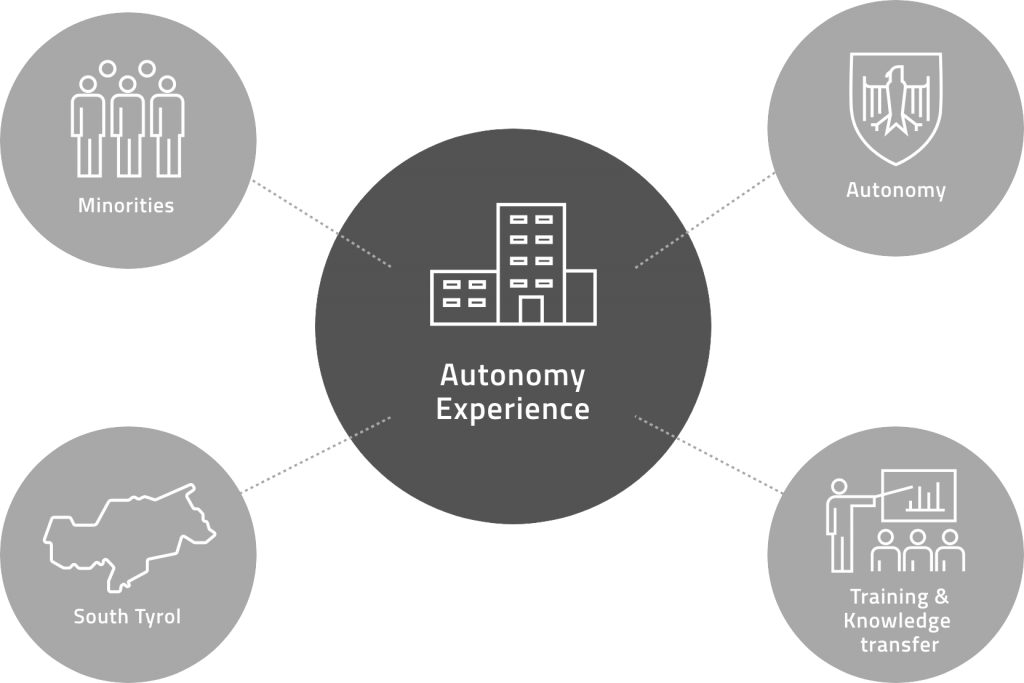 We are your contact for political education as well as for delegation trips to South Tyrol or study visits to the region. We use different forms of knowledge transfer to bring adults and students closer to South Tyrol's autonomy and minority situation and related political issues. We work together with partners from politics, administration and research.
Our mission to communicate South Tyrolean autonomy to interested parties at home and abroad is combined with our research interests. Our research focuses not only on South Tyrol's autonomy, but also on topics that are closely linked to it. Our interdisciplinary team works in the broadest sense on minorities, gender & diversity, intersectionality and the comparative history of autonomies and minorities.
In addition, we also deal with media in minority and regional languages. As the headquarters of the European Association of Daily Newspapers in Minority and Regional Languages (MIDAS), we can draw on a large network.